Dec 1, 2013
First Week at Santai Muay Thai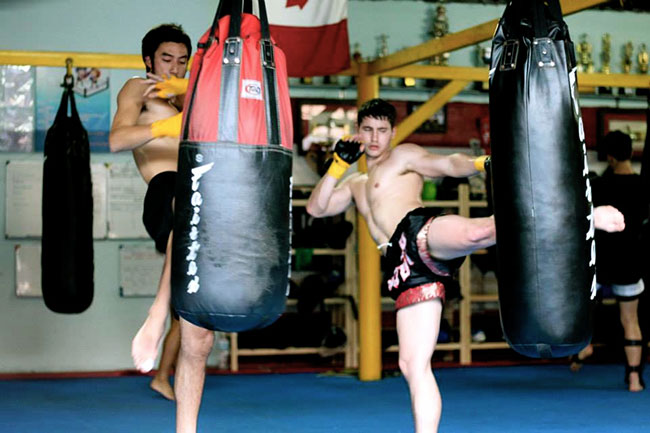 After a cumulative 22 hours of flight time and 16 hours of layover, I was feeling like a battered USPS parcel by the time I arrived in Chiang Mai, Thailand on Monday night.
After landing, I somehow left the airport with the wrong driver and ended up at a random hotel. The staff there didn't speak English and couldn't give me a ride back, so they chauffeured me outside and helped me catch a motorcycle taxi back to the airport in desperate hopes that my pickup was still waiting for me.
When I arrived back at the airport I made a couple laps around the arrivals waiting area but didn't see anyone who looked like they might be looking for me. Just when I was about to lose hope, I saw a man waving and running towards me. He was wearing a Santai Muay Thai tshirt! I felt bad for making him wait around for what must have been 2 hours, but he was a good sport about it and gave me nudges as we walked out to his truck. His name was Phon and he was one of the krus (instructor) at Santai. He drove me to the gym and showed me the training schedule (training starts at 6am — it was now midnight), then to my room where I set my alarm and promptly passed out.
Santai is located in a small, remote town called San Kamphaeng, best described as Thai countryside. There's essentially nothing to do here but train, which makes it ideal for that purpose. Warm-up runs before training take you through back roads beside farm fields, small local shops, and animals roaming around.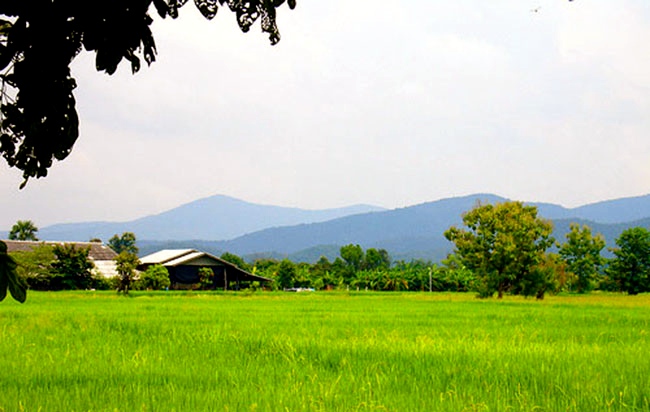 The town has a market, food vendors, 7/11; everything you need and no distractions, which is perfect for my ideal minimalist lifestyle. The locals are very friendly and smiley, and the town has a laid-back vibe. The only foreigners I run into are other Muay Thai students from the gym. Meals can be had here for a dollar. After a few days here I feel very grateful to have chosen Northern Thailand as my destination and Santai in particular. While the beaches in the south of Thailand are undoubtedly beautiful, I find the small Thai country-town atmosphere equally romantic, and I can't imagine training near tourists, nightlife, and drunk Aussies especially.
Jet-lag worked to my advantage the first morning. I got out of bed at 5:30am with no struggle, threw my gloves and shin pads in my backpack, and walked out of my room where I ran into other people from my guesthouse about to head to the gym (they looked like shadows since it was before dawn).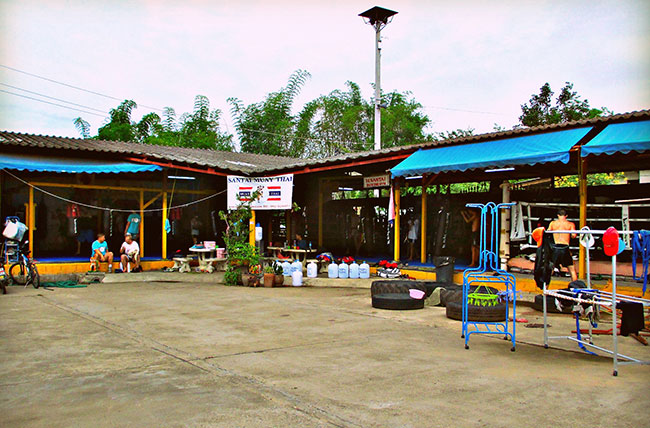 Training kicks off with a 6am morning run (~4 km) through rural back roads, followed by 90 minutes of shadow boxing and bag work. Although I have trained Muay Thai on and off for ~2 years, at Santai I felt like a complete beginner due to the level of attention to technical detail. Training resumes in the afternoon at 4pm with another run followed by 3 hours of pad work, bag work, and conditioning.
Muay Thai is as technical as playing an instrument. Every technique has a prescribed form that strategically maximizes its speed and power — the angle of your feet, the posture of your legs, the motion of your hips, the position of your hands and arms, etc. Then you add in the combinations, movement, defense, and opponents.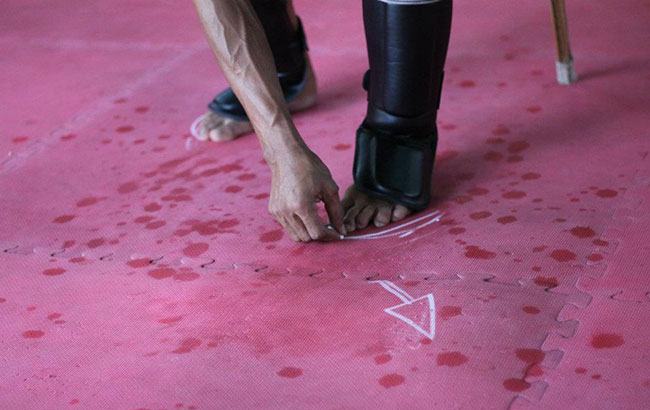 For me, Muay Thai is more mental than physical — which is a misrepresentative statement because the training and conditioning is physically punishing beyond anything I have ever experienced. If I were to describe Muay Thai in two words, it would be graceful brutality. A Muay Thai knee strike is the equivalent of being hit by a car at 35 mph. Everyone training at Santai, even the seasoned fighters, combat soreness, strain, and injury. But at the same time, most people who train for some time reach the peak physical condition and performance of their lifetimes.
During my first few days of training, my body felt like it was being shoved through a grinder. I dealt with an unending chain of challenges and injuries, from blisters on my toes that made it excruciating to twist and turn when striking, to the sorest, stiffest calfves that I have ever experienced. By the end of third day it was a struggle to get up to brush my teeth at night and my abs were so sore that sneezing was painful and using the bathoom became a challenge. Training became a relief in a sense because my muscles were looser when they were warmed up, compared to during off-time when my body became practically petrified.
Bar none, pad work with Kru Phon (the kru who picked me up from the airport) has been the most physically challenging part of my training. Kru Phon is in his late 40's, but like all the krus, he is in great shape. It is humbling. Going hard on pads with him for five rounds while he knarls and growls at me takes everything I've got.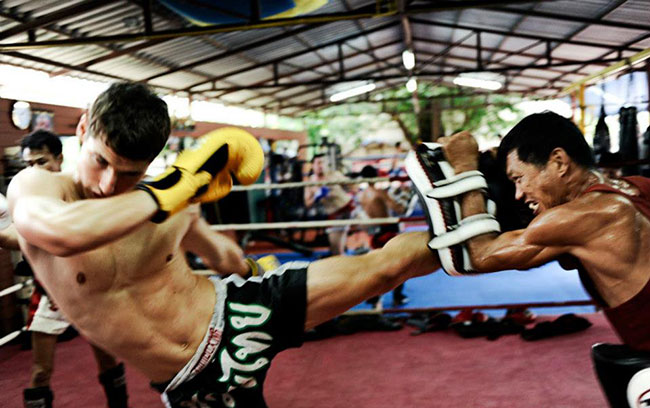 All I did this week was train, sleep, and eat (there's a convenient restaurant run by one of the gym's krus that's on the way home). I had no energy left in me to do anything else and was physically impaired in one form or another. None of this was a surprise, though — I knew coming in that it would take a few miserable days to get over the initial hump.
While I felt a lot of pity for my grotty body, it made me feel better that I was keeping up with another lad who started training the same day as me — he's a strong, built guy headed to British armed forces after this trip, so the fact that I am achieving the same pace of progress as him, as well as the fact that he too is dealing with chronic pain and injury, has been reassuring for my self-esteem.
Everyone I've met has been extremely friendly and laid back. Some of the students are here for a few weeks on holiday, while others have been living here for years or are dedicated to Muay Thai year-round. Several of the students compete regularly while others, like myself, are here just for the training.
Overall, I am greatly valuing the time I have here and am looking forward to continuing training for the next month. Now that I am over the initial hump, I am looking forward to settling into a focused routine and attacking other priorities such as my reading list, taking photos, and exploring Chiang Mai.